Career
now browsing by category
Article post about Career and work related matters
Orig. source published by Kalibrr Career Advice – January 5th, 2016
It's job hunting season again. And there's no scarier beast than the interview.
To help you ace one of the most iconic and crucial parts of the job search, we've compiled a list of the most helpful interview articles on Kalibrr Career Advice. Read through this Interview Survival Guide, and you'll definitely find yourself getting offers in no time.
Preparation is half the battle, and many job hunters walk to their doom by going to an interview without a hint of preparation. There's more to the interview than just the talking and the shaking of hands. Think of it like an exam that you have to pass so that your interviewer, and the company, will see how qualified you are from the role. Dindin Reyes lists down 5 easy steps to getting ready for your next interview.
Even the simplest questions can leave you stammering and stuttering if you don't think about it in advance. In fact, the question "Tell me about yourself" can either turn you into the next employee of the century…or the worst. Make sure to read this list of common interview questions by SlideGenius before you even step into that interview room.
Speaking of the dreaded question — we wrote an article about answering "Tell me about yourself" because while it might sound so simple, it's also just as easy to slip when answering it. Some talk about their life stories; others go wild on their hobbies and interests. And a special few will even go as far as spilling their most intimate of details. (No, don't do that.) The question should be seen as an opportunity to sell yourself well, and Paul Rivera, CEO and Co-Founder of Kalibrr, provides simple, but great, advice on how to own it.
Beauty is only skin-deep, but that doesn't mean you shouldn't care about how you look. Part of winning at a job interview is also making sure you dress right for the part. While it might seem cool to go to an interview wearing your favorite cool T-shirt or your designer blouse, will it make you look professional enough to be taken seriously? SlideGenius' second article for Kalbirr Career Advice put together these quick pointers on how to dress to impress, in the right way.
Interviewers are human, too. No matter how objective interviewers try to be, their personal inclinations can, and will, affect how they see you as a candidate for the job. Of course, being impressive and qualified will rarely be affected by your personality (unless you're that unbearable), but it's always good to know what little (or big) things can make your interviewer change his/her mind about you.
Just because you're the one getting screened for the job doesn't mean you shouldn't be asking questions. Once the interviewer is done grilling you about your qualifications, it's your turn to interrogate your interviewer. This will be one of your few chances, if not the only one, to know more about the company you're getting into and the job that you may eventually accept. Daniel Olivan gives you a list of questions that you should ask every interviewer, especially if the job seems too good to be true.
Interviews won't always be in person, especially if you're eyeing for a job abroad. Thanks to the broader reach of technology, Skype interviews are becoming more common in many companies. Because the interview is happening in a different space, the rules are also different. In this Career Advice post, we share with you a video that will give you tips on how to ace that Skype interview.
Sometimes, things happen without warning. A family members gets into an accident. The roads are impossibly congested with traffic. It can even be as ridiculous as your overly playful dog ruining your one and only interview-worthy outfit. While some excuses are less excusable than others, there are cases when rescheduling an interview is unavoidable. Once you've decided to seriously ask for a resched, make sure to follow these pointers by Marga Salvador to help make this awkward situation go smoothly.
Money Smart | By Ryan Ong -Wed, 26 Dec 2012
There's no need for fancy introductions here. I'll come straight to the point: You can get paid more, even without work experience. That's what the tips in this article are for. Here, dear MoneySmart reader, I will man you up, give you the confidence to demand your worth, and win you that dream job. Experience irrelevant. In fact, some blind kid read this last week, and now he's the highest paid sniper in the US Army. I can't possibly make that up, so read on:
Work experience? Well, school sure seemed like a lot of work…
Salaries are Arbitrary
Salaries come on a sliding scale. Even for an entry level job, for example, you can see something like "between $1,400 to $1,700″, or "Salary negotiable, $3,000 and up".
Which leads me to ask: What justifies the difference of those few hundred dollars? Why do two people at an entry level job sometimes have salaries that are $500 or more apart?
Here's an e-mail response from Marcus Chun, who has been a hiring manager for eight years:
"It depends on the beliefs of the prospective employer. Some employers cherish work experience, and some don't care too much for it.
In some jobs, for example sales, you can have worked in sales for 10 years, but still be a lousier salesman than a talented youngster. If the hirer is aware of this, he will be looking for your charm and intelligence during the interview, not so much your work history."

And this opens the avenue for pay negotiations?
"Yes. There are ways to impress an interviewer that could put a candidate on the high-end of the pay scale. This can happen regardless of your current work experience."
Some methods Marcus shared with me are:
Posit Immediate Solutions
Be a Trainee
Merit By Association
Demonstrate That You Cover Your Costs
1. Posit Immediate Solutions
And then the ball hits the plate, which causes the spoon to lift and…are you listening?
Most newbies, when asked to present their closest thing to experience, will pull out awards they won in school. Or extra credit activities.
Now look, I'm glad you took a week to build mud huts in poverty stricken Koana or wherever. It moves me, it really does. But the hirer isn't going to pay you more for being a great humanitarian or a boy scout. If you want higher pay, replace those abstract credentials with immediate, applicable solutions for the employer.
"Find out what problems the company is facing. Ask what they need," Marcus suggests, "Then draw up a solution for them. If need be, say 'let me get draw up a more complete solution for this, and I'll e-mail to you by tomorrow morning.'

If you can impress them that way, you can ask for higher pay. They might choose to overlook the experience issue, as it's obvious you can do the job well."

2. Be a Trainee
Don't worry, I'm motivated. I'm on half pay till I solve my first actual crime.
"Sometimes you just have to start from the bottom," Marcus says, "but you can determine a set point for a pay bump. For example, you can agree to be a trainee for a lower income initially. But the agreement is that, within three to six months, if your performance is acceptable, the company will take you on at a set pay. And that set pay is on the higher end."
Marcus mentions that most SMEs (Small to Medium Enterprises) have no problems bumping a trainee's eventual pay to the higher-end of the scale. This is because they'd rather someone they've gotten to know, and it lessens their commitment. After all, if they decide not to hire you at the planned pay range, they can drop you before the time comes.
"But don't bother trying this with big companies," Marcus says, "If a big company wants a trainee, they will get a trainee. They don't need you to offer."
Marcus also warns against less scrupulous companies, which might take advantage of you for cheap labour. "At most six months, that's it," he says.
3. Merit By Association
Check out my paper bag. Am I getting that head developer job or what?
"There's a joke that if you worked in Google you can always get higher pay," Marcus says, "Even if you worked there for less than a year, and you managed their broom closet.
Of course that's just a joke. But if you've interned or worked in a prestigious company, however briefly, you have their brand name behind you.
Mention that, in your time there, some of that company's culture and methods rubbed off on you. Say how you were impressed by this or that specific process, and go into details. This might convince the hirer that you can bring in something of value."

Of course, not everyone has the advantage of an internship in a big name company. Which is really why you should have done that in University, instead of joining 25 Unreal tournaments.
For alternative means of building the right associations, follow us on Facebook. We'll be giving you a primer on that soon.
4. Demonstrate That You Cover Your Costs
Actually, we're calculating the number of YEARS it would take for you to pay for yourself…
"Not enough people bring spreadsheets to a job interview," Marcus says, "That's really a pity, because it's a good way to convince me, or whoever your hirer is, to pay more."
The point of the spreadsheet is to show how much revenue you'll bring. This is then contrasted against your wages, to show that you'll more than cover your salary.
So say you're asking for $3,500, which is actually $500 beyond the company's budget. But if your previous sales projections show you bring in $6,000 a month, that extra $500 more than compensates for your higher pay.
The best part is, you can do this even without a previous sales record.
"If you have the confidence to face me, and tell me you can generate twice your income," Marcus says, "You're setting a high standard for yourself.
I'd be skeptical, sure. And believe me, it will come up at a review. But between writing that promise down on a spreadsheet, and just saying 'Oh I am a very hard worker', which do you think is more convincing? If you want to be paid more, this is one more step to justify it."

By Cecile Baltasar for Yahoo Southeast Asia | Yahoo SHE – Mon, 6 January 2014
Here's a question many working parents ask: how do you form a strong bond with your child when your to-do list is packed with meetings, errands, and desk work from 7 AM to 8 PM every weekday?
The solution is simple: "Spend uninterrupted time with your children for at least 30 minutes every day," says Maribel Dionisio, MA, a parenting and relationship consultant at AMD Love Consultants for Families and Couples.
Here are a few tips to help you do just that:
Have daily one-on-one sessions with each child. "When you get home, rest for 20 minutes, then spend the next 30 minutes with one child," suggests Dionisio. "Take a break for a few minutes, then move on to the next child." It may take some adjusting at first, but once you've established a routine, it will become easier.
"Many parents complain to me, 'How can I give 30 minutes every day when I have so many other things I need to do?'" says Dionisio. "I tell them, 'If you can't give 30 minutes a day, then there goes your influence on your child. How will you get to know your child if you don't spend time with him or her?'"
To be able to do this effectively, consistently, and without regret, you will have to line up your priorities. And you'll have to say no to things that are of less concern to you so you can focus on your children.
Go on weekly solo dates with each child, as well. Dionisio says apart from spending exclusive time with your kids daily, it's also important for each parent to take each of the kids out on one-on-one dates every week (or every two weeks).
But there's one rule: "You have to do it on a budget of P50," says Dionisio. That will force you and your child to be creative, and it will teach your child financial responsibility at the same time. Will you have ice cream at an outdoor playground? Kick around a ball in the UP sunken garden? Part of the fun would be figuring out with your child what you can do together.
"This weekly date will be so special to your child because he will have you all to himself," says Dionisio. "Make sure there's no interruption from anyone. Turn off all your gadgets. And then just talk with your child: 'Who's your best friend? What's your teacher like?'"
Set a schedule and let everyone know about it. This one-on-one project is a family effort, so everyone has to be in on it wholeheartedly. Both parents have to figure out a schedule for the weekly dates—who takes whom out, how long they'll be out, etc. Divide your time wisely, especially if you have many kids. Write down this schedule and put it up where everyone in your family can see. This will create a routine, help parents figure out their priorities, and show kids when their turn is with you.
"If you do this consistently and with love, you'll see the results immediately," says Dionisio.
With teenagers, you'll have to be creative. "Your weekly dates won't be good enough anymore when your kids become teenagers," says Dionisio. When that time comes, you'll have to be more creative because you'll be the one chasing them to spend time with you. Is your teen going to her friend's house? Offer to drive her over. Does your son need some supplies from the bookstore? Offer to go shopping with him. Does your daughter have rehearsals at school? Pick her up and take her out for ice cream after.
Or, Dionisio suggests, "Just say, 'I heard there's this new restaurant. You want to try it with me?' Let them know it's your special time with them. But don't label it a date or your kids will say, 'Yuck, you're corny, Mom.'"
Don't use a cookie-cutter routine for all your kids. Because each child is different, you'll have to treat them differently, as well.
"Your eldest and your second child probably think in opposite ways," says Dionisio. "If you put both kids together and force them to do the same things with you, normally, they'll just end up fighting. Or you might inadvertently give more attention to the louder child. Your alone time has to be custom-fit for each child. Some kids need more alone time with their parents than other kids."
If your child likes to doodle, tape sheets of manila paper on one wall of your house and paint a mural with her. If your other child likes to read books, take him to the National library on your weekend date, and scour the shelves for interesting children's books.
Take advantage while they're still young. Spending time with your children is important, more so while they're still young.
"It takes three to five years to change behavior," says Dionisio. "The sooner parents understand this principle, the better. Their positive relationship with their kids will give parents leverage if they have relationship problems with their kids later on. They won't have to do repair work [on their kids' attitude] if they work on it now."
And by 'working on it,' that means spending quality (and quantity) time with your kids. If you connect with them this way for their first 10 years, you'll be able to connect with them for the rest of their lives.

By Pinoy-Business.com & DOLE website

Time flies so fast and before you know it, the year-end is just around the corner. There's the thought of Christmas and, yes, 13th-month pay, which the law requires to be paid not later than December 24 of each year.
The law – Presidential Decree No. 851 – requires all employers to pay their rank-and-file employees, regardless of the nature of their employment and irrespective of the method by which their wages are paid, an equivalent to at least one (1) month of their wages as 13th month pay. To be entitled to 13th-month pay, these employees must have worked for at least one month during the calendar year.
The 13th-month pay of an employee is based on the "basic salary," which includes all remunerations or earnings paid by an employer to an employee for services rendered. However, 13th-month pay does not include cost-of-living allowances (COLA) granted pursuant to P.D. No. 525 or Letter of Instruction No. 174, profit-sharing payments, and all allowances and monetary benefits which are not considered or integrated as part of the regular or basic salary of the employee. Maternity benefits, like other benefits granted by the SSS, are are not included in computing the employee's 13th-month pay. Overtime pay, earnings and other remunerations are also excluded from "basic salary" in the computation of the 13th-month pay.
There's a catch, though. If these items, which are legally excluded from the computation of 13th month pay, are included by the employer in its previous computations and such act ripens into a "company practice," then these items can't be excluded without violating the prohibition against diminution or elimination of  benefits.
FORMULA AND COMPUTATION OF 13TH MONTH PAY (source: DOLE website)
Total basic salary earned during the year / 12 Months = Proportionate 13th Month Pay
Illustration: Using the basic wage in the NCR at 436.00 per day and a six-day workweek or an equivalent Monthly Basic Salary of P11,372.33, to wit:
Months
Attendance
Salary in a Month
January
no absence
P11,372.33
February
no absence
P11,372.33
March
1 day leave w/ pay
P11,372.33
April
no absence
P11,372.33
May
2 days leave w/ pay
P11,372.33
June
2 days leave w/ pay
P11,372.33
July
no absence
P11,372.33
August
2 days leave w/ pay
P11,372.33
September
on maternity leave
no salary
October
on maternity leave
no salary
November
no absence
P11,372.33
December
5 days leave w/o pay
9,192.33
P111,543.33 / 12 months
P9,295.28 is the proportionate 13th month pay
Note:
1. COLA of P30.00 under Wage Order No. NCR 17 is not included in the basic salary in computing 13th month pay.
2. The 2 months of maternity leave are not included in the computation of 13th month pay because the female employee has no earnings from the company for the period.
Nearing 40 and have nothing yet to speak of? Put your finances in order—now

Twenty-somethings have the time and strength but not enough money to buy and do things they want. Retirees can have enough money, but have the least time and strength.
Thus they say "life begins at 40." It is true in a sense that most people should be stable, ideally, in all aspects of their life when they turn 40—the "prime" stage in a person's life.
It is when you are 40 when you can do and be in your greatest potential—and at least, have already achieved the following:
1. Property
When you reach 40, society expects you to be living on your own and having a family. If you get married at around 25, the first thing that you should consider before or right after your wedding is acquiring your own home. If you availed a home loan, you should be fully paid or nearing it by today.
2. Good credit score
Your life will be stressful when you are still paying debt at 40. Considering that as you age, more responsibilities are coming your way—wedding bills, birth, education, emergency fund, and so on. If you do not pay your debts early on, it will be harder for you to pay for it as you go along with your life.
3. Stable cash flow
By the time you're 40, you should not be in a situation wherein you are clueless on where to get money for what. You should have the budget for everything and it is clear to you where will you get it. Proper financial management takes time and discipline to master, and by this time, you should have mastered it after years.
4. Investment
Following stable cash flow is your financial ability to invest. Investing is great because you let your money work for you instead of putting it in your bank, which only earns little in interest. Stocks, mutual fund, and bonds are some investment options available.
5. Insurance
Life is unpredictable. You get sick, you get hospitalized, and you die.  You do not want to stress yourself further on collecting money for such unfortunate incidents. If you are insured, you can save time and money while saving you from unnecessary stress.
6. Retirement fund
The misconception about retirement fund is that you should have it when you are old. But there is a difference when you want it that way or you really need to work as long as you have the strength to do so. If you build your retirement fund early, you will have that freedom to stop when you want to.
Do not wait until you are 40 before considering to prepare for these things. While you still have the time, strength, and opportunity to work on building the life you want for you and your loved ones, maximize what you have today so you will have a comfortable life after 40 and beyond. – Rappler.com
'If you answer this poorly, you set yourself up to get grilled by the interviewer. You'll be a nervous, rambling wreck,' writes Kalibrr co-founder and CEO Paul Rivera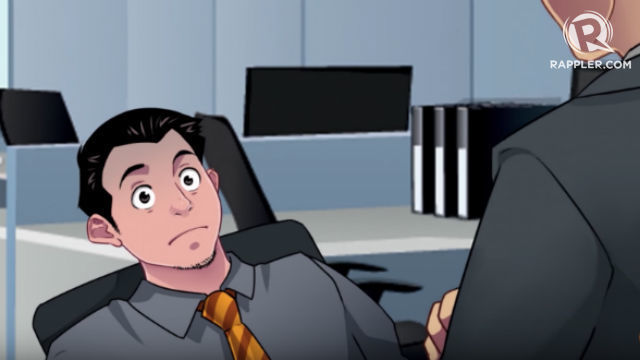 An earlier version of this story first appeared on Kalibrr. Visit this page for more on the ups and downs of navigating your career.
Talking about yourself should be easy, right? Who knows you better than you? However, in an interview, we don't want to know everything about you. We don't care about your life story – who your parents are, what they do, your religion, and where you live. Its probably the most common mistake I see people making – spending too much time talking about personal information, rather than painting a picture of their professional background and career aspirations.
If you answer this poorly, you set yourself up to get grilled by the interviewer. You'll be a nervous, rambling wreck. We've seen it many times and its entirely avoidable if you're prepared.
If you are prepared and answer this question well, then you set the tone for the interview and immediately begin the process of selling yourself to the interviewer.
And that's what you're doing here – you want to start the interview by essentially saying how awesome you are and why I'm the best candidate for this job.
The best way to answer this question is to make sure you cover this core theme in your answer:
How does your personal and professional background relate to you being an extremely good candidate for the position you're interviewing for?
Any information that doesn't make a strong case for you should be an excellent candidate isn't important here.
A good answer shouldn't be more than 60-90 seconds and should cover core these core points:
Where'd you go to school (and what you studied)
A very short summation of your career or background
The last job you've had, what that company did, key responsibilities and one important impact you made in that organization
Why you're there interviewing for this job
Here's what I would say if I were interviewing for a call center agent:
Hi, my name is Paul Rivera. I graduated with a Political Economy degree from UC Berkeley and have spent the last 10 years working for and starting internet startups. I'm currently the CEO at Kalibrr. Kalibrr is talent matching platform based in the Philippines with global investors like Y Combinator and Omidyar Network. My key responsibilities there include management of strategy, sales, customer success, marketing, finance and legal. I spearheaded the raising of $2 million in venture capital funding for Kalibrr in 2013, which was a record for a seed round for a Philippine startup. I've also directly managed product before creating a product team overseen by our COO. Though I enjoy the work I do at Kalibrr, I see a tremendous opportunity to leverage my skills and experience, especially with excellent communication ability, to be an outstanding call center agent at Accenture and that's why I'm here interviewing with you right now.
The best thing about this interview question is you almost always will get it so practice it, rehearse it, and memorize it so you start off your interview in control and with momentum. Your answer and how well you tell your story will drive the rest of the interview. In our opinion, the better you start, the better you finish.
What if you have no professional background and just graduated from school?
Not a problem – here are the core points you should cover:
Where did you go to school
What was your course and how is that going to be useful for you for this job
Key coursework, an internship/OJT, or work experience and what they taught you
Why this company + this job to start your career?
If Paul was graduating from Jose Rizal University with an HRM degree and was interviewing for a Recruitment Assistant job at Globe, here's what he would say:
Hi, my name is Paul Rivera and I'm a fresh graduate of Jose Rizal University. I studied Human Resources Management because I really enjoy working with people and I'm fascinated with the role of people in building and operating companies. Without the people, you don't have a business. While in school, I was an OJT during my fourth year at Jollibee Corp where I worked with their recruitment team and helped coordinate the interview of candidates for cashier roles at Jollibee restaurants. I really understood the role and value that recruiters create and how they help ensure a company always hires the best talent. I saw an opportunity on Kalibrr to be a Recruitment Assistant at Globe and after doing my research, I saw that Globe was one of the best companies in the Philippines and I feel my experience and work ethic will make me a valuable contributor at Globe.
So there you have it – a template for you to answer the 'Tell Me About Yourself' question. Write this down on paper and practice it until you have it memorized and can say it without looking like you've memorized it. Make sure you customize it for every interview you do – so research the job and the company and really understand what they do and how you could add value to them.
Put on your best Piolo Pascual and nail that interview.
Doing a guaranteed SEO can be daunting and frustrating especially for most business start-ups. Agree? You have to think about effective strategies that can boost your website's traffic, and how you can grab your audience's attention immediately. Unfortunately, not all businesses can efficiently and successfully achieve the desired outcome. That is why most of them go for an alternative – hiring an SEO Company.

But before you decide to go off running to every SEO Company, knowing which of them can destroy your website is a MUST! Yes, some companies offer and promise you with great deals but leave you with nothing afterwards. In fact, a lot of you here are convinced and fall for such scams. And I'll tell you, you don't want to be tangled and be one of the victims!
Great offers are undeniably a temptation. But as a marketer, you have to be careful with every decision that you make to avoid unwanted results that can jeopardize your business. And to give you an idea, below are some lies most bad SEO Company's would most likely tell you.
1. "You will get #1 ranking."
Putting your website in the top rank of the search engine is one of the duties of an SEO Company. Of course, you hire them for that. But just because they promise you the first page of the Google ranking, it doesn't mean they can also give you a 101% assurance that your website will rank. However, a good company won't promise but will give you examples of success stories instead, where they made and got their other clients the #1 ranking. When it gets down to business, proving proofs beat promises.
2. "All we do is SEO; it's our specialty."
Whether you realize it or not, doing SEO is not just about ranking your website. In fact, it has become a multi-pronged approach that relies on all angles of internet marketing. A good company does not just specialize in doing SEO; they also know how to get people talking about you and your website. Moreover, coming up with creative and engaging ideas and a lot less technical is one of their fortes. They think out of the box, not just doing SEO per se.
3. "If you stop working with us, you will lose all your ranking."
Unless you do something stupid such as violating Google's policy, once you have your website on the #1 ranking, they tend to stay there. However, this statement is a blackmail. What else? A good SEO company would be happy when their client is also happy even if the contract is over. Moreover, having the right attitude towards your customer is a sign of professionalism.
4. "You will see results within the first month."
How we wish this were true, but it is not the case. Doing SEO takes a lot of hard work, effort, and time to see the desired results. Of course, just consider the fact that there are thousands to millions of marketers who also want their website on the #1 ranking, competing with them requires effective strategies. However, companies who promise a one-month turnaround are more likely doing some hardcore and bad link-building. But this might get you into some trouble.
5. "In 1995 we…"
Ok, if you want to make your website rank on the search engine; do not base your opinions and hire companies who are talking about anything they did in the 90's. Remember, it's now 2016. And SEO in 1995 was way too different than 2016 SEO. Anything they did before is no longer valid and applicable in today's ranking strategies.
6. "We know people at Google, so we can get you to the top of the list."
SEO companies who promise you a #1-page rank since they know someone is working at Google deserve some shaming. Always remember that business is business, and there's no secret to making your website skyrocket in no time. Again, it requires your effort and time to achieve the desired outcome. Moreover, the feeling is satisfying when you know that all of your hard work is paying off.
7. "You don't need to be involved at all!"
There's always something fishy going on if they don't want you to get involved with the work. However, a good SEO company is open to every work they do. In fact, most of them will also need your full participation and cooperation to ensure an excellent outcome. Moreover, if you are also hands-on in doing SEO, you will understand the process and what it's all about.
By Zoe Ruderman | Cosmopolitan – Mon, 14 Jan 2013
Jennifer Lawrence is now a household name after she accepted the lead role in The Hunger Games movies, based on the best-selling novels by Suzanne Collins. But, even though she knew playing tough-girl Katniss Everdeen would make her career, Jennifer recently confessed that she waited for three days to accept the role because she was stressed about how it would change her life.
Like Jennifer, we all have to make tough decisions. Sure, they might not involve accepting an offer to star in a sure-to-be blockbuster movie, but making any big big move is freaky. Follow these expert tips to guarantee the next decision you make will be the best one for you.
1. Go with Your Gut
A study found that when making simple choices (like what cereal to buy), it pays to be rational. But when it comes to bigger ones (like which job to take), you're better off listening to your instincts. That's not to say you should buy a car on a whim, but if you have weighed the pros and cons and still can't reach a conclusion, let your snap judgment be the tiebreaker and go with what just feels right.
2. Put Down the Mojito
There's a reason Google Mail Goggles was invented: Cocktails make it easier to act. Although one drink can relax you while you're agonizing over a choice, more than that can cloud your judgment.
3. Sleep on It…but Just for One Night
Researchers say unconscious deliberation (i.e., getting shut-eye) can help you analyze your options and come to a conclusion, which is why people will often tell you to sleep on it. However, belaboring a decision for too long means you aren't comfortable with any of the choices you have before you and you need to consider alternatives.
4. Get into a Stress-Free State
Go for a haircut right after you are laid off and you could wind up looking less than amazing. The reason being, we tend to act rashly when we're nervous or upset. Research suggests that anxiety not only makes it more difficult to settle on something but also actually makes you more likely to come to the wrong conclusion. So if you're fighting with your boyfriend while choosing between two apartments, try to resolve the disagreement quickly so you can make a more clearheaded resolution. And since one study found that stress has a residual effect, wait a few days after you've kissed and made up before forking over your security deposit.

5. Talk It Over with a Select Few

Chatting about your predicament with close friends, your mom, or whomever you trust to give an honest opinion is a good idea. Hashing out your options allows you to further process the decision, and hearing others' perspectives (whether you agree with them or not) can help you arrive at a more informed – and better – conclusion.
6. But Avoid Discussing It with Everyone
So you know that running your decision past a few key people in your life is smart. But it's best to keep your hairstylist, trainer, and barista out of it. Soliciting too many opinions – especially from people who don't know you that well – can leave you with lots of conflicting (not to mention bad) advice. Before seeking someone's opinion, ask yourself if the person is really in a position to know what's best for you. If the answer is no, keep it to yourself.
7. Consider the Long-Term Consequences

Some decisions make short-term sense but in the long run can be disastrous. For example, telling your guy you cheated on him once three years ago may relieve your guilt, but it will probably cause him to break up with you. Similarly, doing things like sitting in the sun or having unprotected sex often can feel right in the moment, but these toxic behaviors have serious health ramifications.
A good rule of thumb: Play out each possible scenario in your mind…and consider the outcome (on your health, on a friend's or boyfriend's feelings, on your credit-card bill – whatever) before making a controversial move.
8. Don't Leave It Up to Chance
It can be dangerous to make a major, life-changing choice based on what your horoscope instructs you to do. While it's definitely fun to let these things influence small decisions (which dress to wear on a date, if you should ask out a guy), the bigger stuff (dumping your boyfriend, moving across the country) should not be left up to the stars.
9. Blow Off Bullies Who Are Pressuring You
When grappling with a decision, it can be easy to be swayed in one direction by someone who has self-serving motives – whether it's a salesperson talking you into buying a pair of shoes you can't afford or your parents being all up in your grill about going to a particular grad school. Distance yourself from the person or people pressuring you while you sort out your thoughts. And if that's not possible, pretend you're advising a friend on the matter, which will help you act more logically and guilt-free.
10. Remember That You Can't Always Use the Past to Predict the Future

Especially when you're making a choice that will seriously affect your bank account or lifestyle, it's important not to rely simply on experience. In our rapidly changing world, experts recommend assessing each new opportunity with a fresh mind-set. What might have been a shrewd move a few years ago – like buying a house or leaving your 9-to-5 gig to start up your own business – could wreak havoc on your life today.

iMoney Phils – Thu, 15 May 2014
Personal finance means the management of individual or family finances. This means that you are able to pay for day-to-day expenses as well as emergencies while ultimately saving some part of the money you earn for investment and retirement.
Personal finance, sadly, is not a subject that is taught in school that is why so many people are clueless as to how to manage their own money. Mismanagement of finances is very critical if you want to achieve financial freedom, this is not exclusive to the young because there are also adults who have endangered their retirement funds because of their lack of knowledge in money management. Here are some of the signs that will make you think twice.
1. You keep on waiting for Salary to come in
It is five days away from payday and you are surviving with a few pesos for food and transportation every day. Whereas when you received your salary, you spend it with getting expensive coffee and buying all the things that you don't need. Heck you don't even budget.
2. You Don't Have a Savings Account
No! A payroll account does not count. It is essential for everyone to have a savings account for them to create their emergency fund. Experts claim an emergency fund should have at least 3-6 months' worth of income to cope with emergencies or unexpected changes. The emergency fund is used when your car suddenly breaks down or you have to pay the hospital a visit due to an illness or worse because you quit or lost your job, or you have to pay your mortgage, you will need this money to take care of your expenses. People in financial mess do not have emergency funds so they borrow money for such cases, they take a loan or cash advance, therefore incurring more debt.
3. Unable to Pay Credit Card Bills
Worse is if you only pay the minimum on each of your credit card bill. You could be saddled with credit card debt for 5 years, or even 10 for that purchase you made recently. And if your answer to your financial woes is to apply for another credit card because what you have are maxed-out, or near their credit limit, then you undoubtedly are headed to a financial crisis!
4. You Rely on your Parents When It gets Rainy
The worst thing about not having money during emergencies is asking money to cover for those emergencies. And most of the time, we ask Mom and Dad if they can lend us money, nothing is wrong with that – all of us did that for at least 18 years but if you are working for more than a year now how can you ever pay them back for the money you owe them?
5. You are not even thinking about your retirement.
How about your retirement? You may be young but this is the perfect time to think of your retirement fund. When your retirement plans involve winning the lotto, then you're in trouble. Some people spend money buying lotto tickets hoping that a windfall will come their way to cover their retirement.
Bottom line
If you somehow find yourself in any of the above situation, it's not too late to learn the art of delaying gratification. Self-control is your best bet. If you can't afford it, wait until you have enough cash to pay for it. If you are a young professional without any dependents, it wouldn't be impossible to set aside even just P1,000 as your monthly savings.
How do you do that? Start keeping track of your expenses which should never exceed your income. List down where you spend your money on a given month and see which portions you can cut back. If only you would limit your booze or think twice before getting that new iPhone, you would have saved a lot already!
Learn how to budget and live within your means to avoid financial disasters!
MANILA, Philippines – If you are a graduate from one of the top 10 universities in the country, you have higher chance of getting hired, according to the recent survey from Jobstreet.com.
In the study conducted from February 22 to March 6, 2016, it reveals that same top schools in 2015 report emerged on the list.
A total of 550 employers have been asked, and it shows that 8 out of 10 companies are also willing to hire fresh graduates.
The Polytechnic University of the Philippines (PUP) topped the 2016 rankings with 45-percent of companies said they will hire graduates of this institution. PUP, a big game-changer in the list of universities overtakes the Big Four consists of University of the Philippines (UP), University of Santo Tomas (UST), De La Salle University (DLSU) and Ateneo de Manila University (ADMU).
Here are the Top 10 Universities in the Philippines that lead 2016 Jobstreet Survey of Schools that Matter to Employers (% who prefer):
1. Polytechnic University of the Philippines: 45%
2. University of Santo Tomas: 31%
3. Ateneo de Manila University and University of the Philippines: 29%
4. Pamantasan ng Lungsod ng Maynila: 27%
5. Far Eastern University: 26%
6. De La Salle University: 25%
7. Technological Institute of the Philippines: 24%
8. Mapua Institute of Technology:22%
9. University of the East: 20%
10. Adamson University: 17%
UP which ranked first last year is now on third spot, tied with ADMU. UST maintained its position on second place.
Though 6 out of 10 firms said they will hire based on school preference, graduates of other institutions should still be confident about landing a job.
"Dapat huwag mabahala ang mga estudyante kasi kahit may preference ang mga companies, kahit hindi ka galing sa ganoong school, may assurance ka na as long as you're qualified, 9 out of 10 companies will still hire you and disregard their preferred school," Yoda Buyco, regional marketing manager of Seek Asia said.